On behalf of the Northern Illinois 4-H Camp Association and the staff at Camp Shaw-Waw-Nas-See, we welcome you to our site! Great things are happening out here at Camp Shaw and it is our greatest hope that we can serve you and your family by providing you with safe, ethical and top notch premier camping tradition.
Have A Heart: Send A Kid To Camp! Annual Fundraiser
The annual Camp Shaw Fundraiser will be held on Friday, February 13, 2015 at DiNolfo's Banquets in Mokena Illinois. The evening will consist of a silent auction, a delicious dinner with entertainment to follow.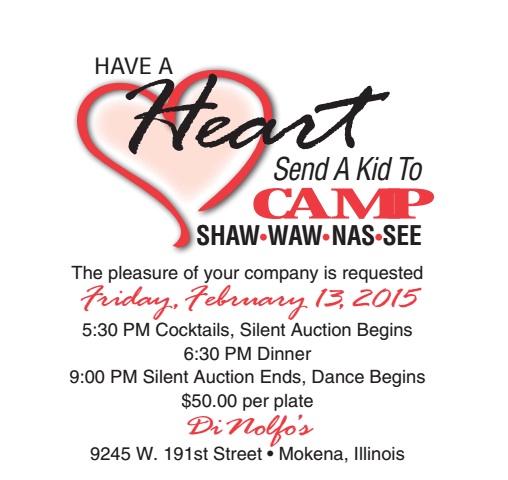 Purchase a ticket in the month of January and be entered to win a FREE week of Youth Camp for your favorite camper!
To purchase tickets please contact Ty Arseneau at haveaheart@campshaw.org or 
Interested in sponsoring our event? Click here  to find out how your personal and/or corporate sponsorship will not only benefit 4-H Camp Shaw-Waw-Nas-See, but see how YOU will benefit!
~~~~~~~~~~~~~~~~~~~~~~~~~~~~~~~~~~~~~~~~~~~~~~~~~~~~~~~~~~~~~~~~~~~~~~~~~~~~~~~~~~~~~~~~~~~~~~~~~
Take Advantage of our Camp Discounts!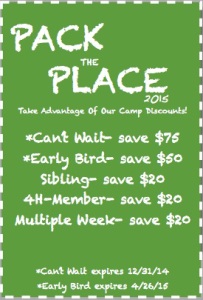 Upcoming Events in 2015:
Have A Heart Annual Fundraiser Dinner & Dance:  Friday, February 13 
Camp Clean Up Day: Saturday, April 11
Camp Open House: Sunday, April 26
Book your special event now!
Beat the crowds and make sure your wedding, retreat or special event gets on our books for next year now!  Call the office at 815-933-3011 to reserve today!